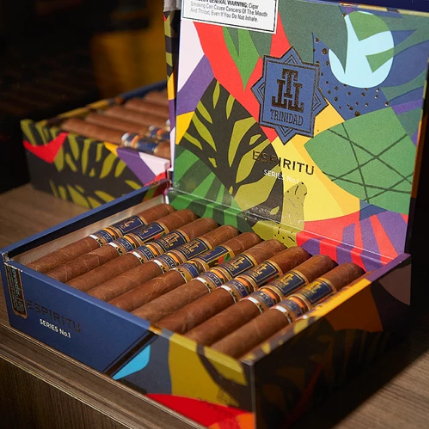 Wrapper: Nicaraguan
Binder: Nicaraguan
Filler: Nicaraguan
Country of Origin: Nicaragua
Cigar Strength: Medium - Full-Bodied
Make yourself a mai-tai and get ready for a great smoke to go along with it. A.J. Fernandez and Rafael Nodal (Altadis, USA) have teamed up again for a blast from the past.
Trinidad Espiritu was created to celebrate the Caribbean cigar heritage of the 1960's and '70's. It was a golden age for cigars. A.J. and Rafael spent a lot of time to re-create a cigar reminiscent of this time period.  This iconic brand from the past re-emerges as an all-Nicaraguan Puro. Perfectly blended to create the perfect balance between strength and flavor, A.J has created another beauty. You will find a ton of flavor with notes of citrus and toast finishing off in a natural sweetness.
Now all you must do is add a Caribbean vacation and you've got it made!
---
Share this Product
---
More from this collection