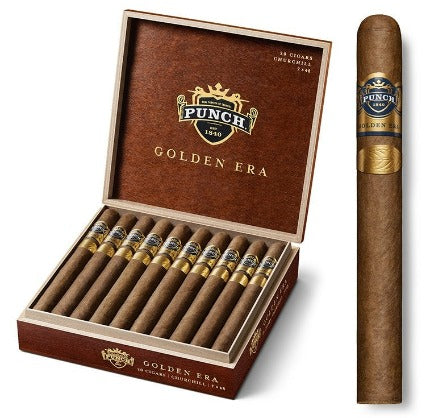 Wrapper: Honduran Corojo
Binder: Honduran Corojo
Filler: Honduran Corojo & Habano
Country of Origin: Honduras
Cigar Strength: Medium - Full-Bodied
FEATURING COROJO TOBACCO, MY FAVORITE TOBACCO, FROM THE BEST COROJO FARM IN THE WORLD!
During the Golden Era of cigars, the Corojo wrapper leaf was prized for its silky, oily wrapper and its unique spice. Corojo leaf remained the wrapper of choice for premium cigars until disease plagued the prized crop and Corojo was resigned to the history books.... or so you thought.
Take a journey back to the Golden Era of cigar making when cigars were wrapped in beautiful, golden Corojo leaf. Like Punch cigars, the Golden Era Havana Corojo wrapper seed found a new home in Honduras. This rare tobacco has been carefully cultivated by the Eiroa family on 650 acres since 1997. I've been to this farm in the Jamastran Valley in Honduras and their Corojo tobacco is magical.
As a result of years of careful cultivation, Punch can present to you an expertly crafted cigar, handmade with authentic Corojo leaf in all three components: wrapper, binder, and filler.
The Golden Era is a balanced and flavorful cigar without being overpowering. Punch Golden Era: authentic and unadulterated.
---
Share this Product
---
More from this collection