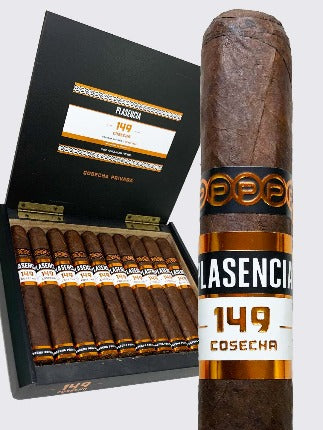 Wrapper: Honduran
Binder: Honduran
Filler: Honduran
Country of Origin: Nicaragua
Cigar Strength: Medium - Full-Bodied
The Spanish word "cosecha" translates to harvest.  The Plasencia Cosecha 149 commemorates the Plasencia family's 149th yearly tobacco harvest which took place in 2014. The Plasencia family felt that the aged tobacco from the 149th harvest had reached perfection and thus the Plasencia Cosecha 149 was created.
The Plasencia Cosecha 149 is a Honduran puro using tobacco from the Plasencia family's various Honduran farms. This medium to full bodied blend features plenty of spice and toasty crispness (which is unique to Honduran tobacco). The smoking experience changes to a smoother, balanced middle finish. Housed in 10-count boxes the Cosecha 149 boasts a beautifully designed copper foil band.
---
Share this Product
---
More from this collection