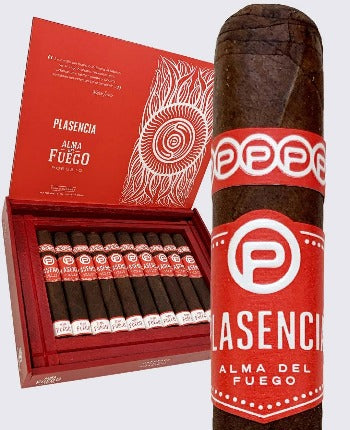 Wrapper: Nicaraguan Jalalpa
Binder: Nicaraguan Ometepe
Filler: Nicaraguan Jalapa and Ometepe
Country of Origin: Nicaragua
Cigar Strength: Medium - Full-Bodied
The Plasencia Alma Del Fuego is the third release in the Alma Series and follows the highly rated Alma Del Fuerte and Alma Del Campo. All of the tobaccos used in this cigar are from Plasencia's own farms in Ometepe and Jalalpa.
Ometepe Island in Nicaragua is known for its two volcanoes. These volcanoes create soil that is black and rich in nutrients and it helps create some of the best tobacco in the world. Plasencia uses this Ometepe tobacco for both binder and filler in the Alma Del Fuego.
The other tobaccos, including the wrapper, come from Plasencia's farms in Jalalpa, another great growing region in Nicaragua.
Alma Del Fuego, meaning "Soul of Fire", radiates passion and highlights the tobaccos from these two regions. The cigar offers a hint of spice, complemented by savoring notes of tangerine, roasted cashews and guava wood. The Sun-grown wrappers from Jalapa were carefully selected by Plasencia to augment the cigar with a naturally sweet character.
Medium to full-bodied with a hearty, robust flavor and aroma, Alma Del Fuego will be a great addition to your cigar humidor.
---
Share this Product
---
More from this collection