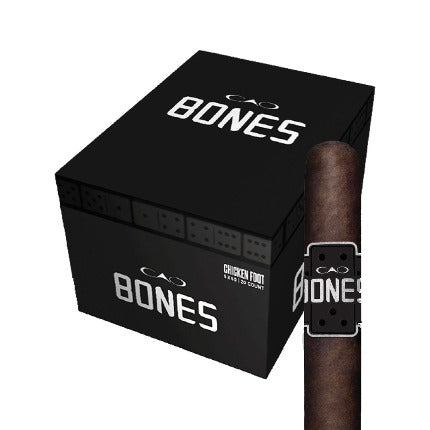 Wrapper: Connecticut Broadleaf
Binder: Connecticut Shade
Filler: Dominican, Nicaraguan
Country of Origin: Nicaragua
Cigar Strength: Medium - Full-Bodied
SAVE 31% ON EVERY BOX!
This is the latest creation from Rick Rodriguez and his friends at CAO. They are advertising this as the perfect cigar to enjoy playing dominoes or shooting dice. The perfect cigar for dominoes or dice? Give me a break! I have nothing against dominoes or dice, but I don't play often. However, I do like great, new cigars. Keep your game, but let me enjoy this cigar, anyway.
CAO Bones is a bold cigar with sweet and nutty notes. The silky Connecticut Broadleaf wrapper really stands out and covers a Shade binder with a complex five-tobacco blend from three countries. The CAO Bones delivers a medium to full-bodied smoke with a perfect balance between power and smoothness.
Play dominoes if you like the game but try this cigar either way. Personally, I would rather drop a dime on the Eagles and just watch a game on the tube with my favorite beverage and enjoy my CAO Bones.
---
Share this Product
---
More from this collection