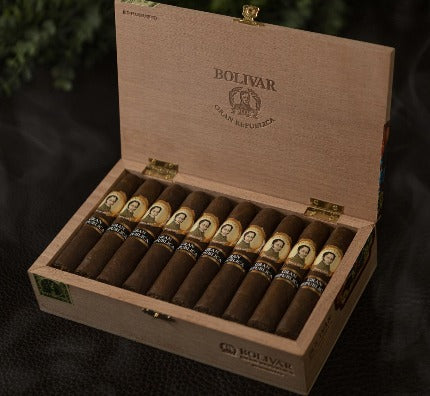 Wrapper: Ecuadorian Habano
Binder: Brazilian Arapiraca
Filler: Brazilian, Nicaraguan, Colombian
Country of Origin: Honduras
Cigar Strength: Medium - Full-Bodied
The Bolivar Gran Republica uses an Ecuadorian habano wrapper over a Brazilian Arapiraca binder and fillers from Brazil, Colombia, and Nicaragua. While born in Caracas, Simón Bolívar liberated Colombia and Ecuador from the Spanish Empire in the early 19th century. Scandinavian Tobacco Group is using that historical tie-in for the naming. Bolívar was the first president of the Republica de Colombia, also known as Gran Colombia, an area that included modern-day Colombia and Ecuador.
"With Bolivar Gran Republica, we are continuing to build the legacy of this important brand," said Steve Abbot, director of marketing for Scandinavian Tobacco Group (STG). "This is a bold blend for the initiated smoker, one that not only deepens the range of offerings from Bolivar but that also highlights the best of South American tobacco. We're confident that Gran Republica will be a strong addition to the growing Bolivar portfolio."
The Gran Republica is produced at STG Danlí in Honduras. The blend features a number of rare fillers and offers a medium to full-bodied smoke with notes of cedar, pepper and leather finishing in a smooth, even-burning experience.
---
Share this Product
---
More from this collection